"The reputation of" to seize the Chinese tea industry "Oscar" | good news! Yuda has been selected as "China's Top 100 Tea Enterprises" for 14 consecutive years!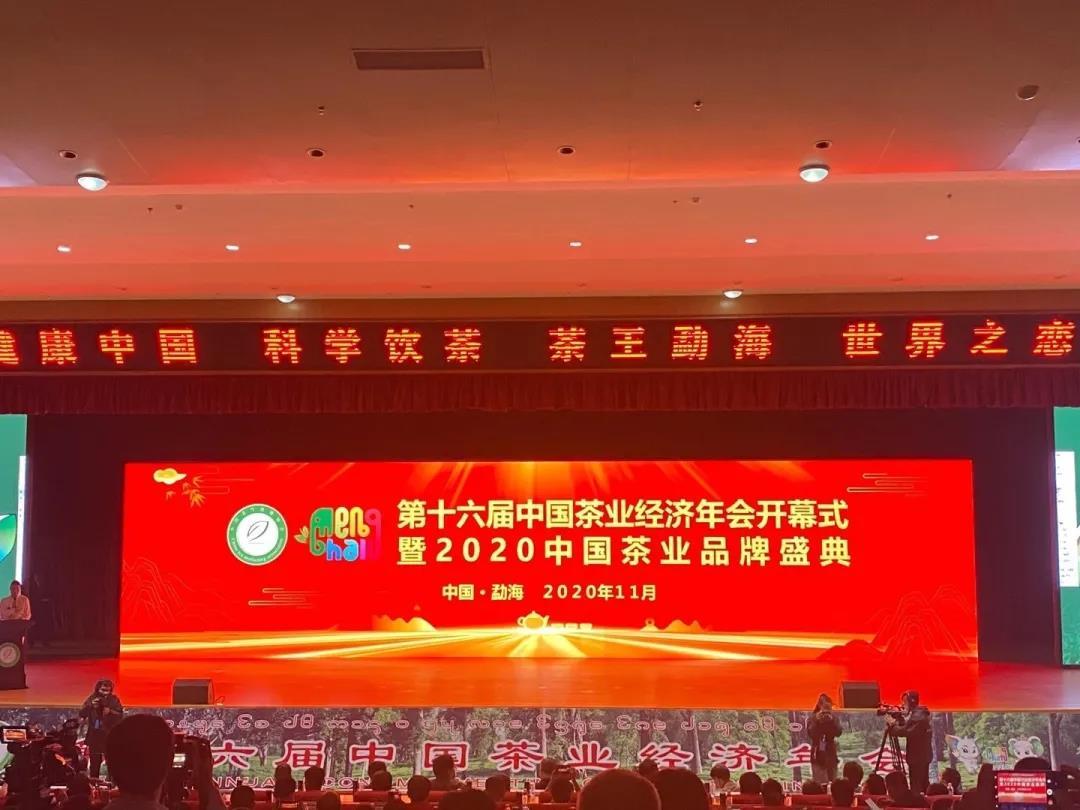 At the opening ceremony of the 16th Annual Meeting of Chinese Tea Industry
Fujian Yuda Tea Industry Co. LTD
Won the "2020 China Tea Top 100 Enterprises"
This is also Yuda White tea from 2007 to 2020
Won the honor of "China's Top 100 Tea Enterprises" for 14 consecutive years!
On November 18, 2020, the 16th Annual Tea Industry Conference was held in Menghai County, Xishuangbanna Dai Autonomous Prefecture, Yunnan Province.
As an important annual event of China Tea Circulation Association, it has been successfully held for 15 times. It is the most influential, innovative and cohesive annual event in Chinese tea industry, with the most participants in the industry, the most authoritative information and the most widespread communication. Yuda was also invited to attend the meeting.
At the meeting, the final results of 2020 China Tea industry Survey were officially released, and the annual award of outstanding enterprises and outstanding counties in China tea industry was awarded. At the ceremony, Fuding City of Fujian Province won the title of "Top 100 Counties and cities of Tea Industry in 2020".
Eleven Fuding tea companies made the list
2020 Top 100 Tea Enterprises in China
Pinpinxiang, Tianhu, Ding Bai, Kang Lai Yan, Yuda, Ruida, Shunming Road, Guangfu, Lianfeng, Dongnan White Tea, Hua Xiang

As one of the top 100 counties in the tea industry, Fuding only has 11 tea companies listed on the top 100 tea companies in China, and Yuda White Tea is one of them.
Yuda has always been committed to creating "benchmark products in the white tea industry" and "reputable brand of white tea". Thirty years of constant focus and five generations of craftsmanship have made it possible to create today's achievements.
In 2020, through 30 years of precipitation and thinking in the tea industry, based on the trend of brand upgrading and maintaining quality style, Yuda White Tea won the honor of "Chinese tea Master" and launched Yuda National Tea Master series -- "Huanggang Village Star Classic".
Focus from the trust in brand, quality, uphold from the originality, professional adhere to.
Yuda white tea, with its awe of tradition and infinite exploration of the good taste, seeks a profound understanding of white tea.
Being awarded the "Top 100 Tea Industry Enterprises in 2020" is a high praise for the brand and quality of Yuda white Tea, and also a profound encouragement for its future development.
Yuda White Tea will continue its tireless pursuit of quality and unremitting efforts, and offer a cup of orthodox good tea from Huanggang Village to every tea lover!
企业,茶业,白茶,中国,百强,荣获,年度,2020,品质